The Farm at 95   |   Mary Kaitlyn & Nathan   |   November 25, 2017
After being high school sweethearts, dating long distance through college, getting full time jobs, and a total of SEVEN YEARS of dating – Mary Kaitlyn & Nathan are finally MARRIED!!!!
We've photographed at The Farm several times, and it's always fun to see what each couple does with the venue to put their unique touch on it. With the help of Nate's mom, Terri, they had several really neat ideas implemented! A huge monogram above the stage, greenery over all the wall sconces, a balloon exit, and were even strategically able to fit 230 guests!
The girls all wore cute robes to get ready, with Total Concepts doing all the hairstyles, and Caroline Sharp at Merle Norman doing all the makeup!
Even though it was a beautiful, sunny November day, it was WINDY – but all the bridesmaids were great sports outside in the field with nothing to block the wind! We did portraits quickly to get everyone back inside!
A few of our favorite parts of the day:
• Mary Kaitlyn's sweet First Look with her Daddy (a few tears!)
• The little ring bearers stealing the day with their adorable grins
• Nathan watching MaryKaitlyn walking down the aisle
One of my FAVORITE part about weddings is if the groom tears up when his bride walks down the aisle. Nathan said the anticipation of waiting for her to walk through the doors was killing him, and he started tearing up! He was wiping away tears as she walked towards him!!! SO SWEET!!!!
One of the MOST SPECIAL MOMENTS was when we were about to start Bride & Groom portraits, and they pointed out a rainbow. It hadn't rained that day, or anything, and came out of NOWHERE – as if Mary Kaitlyn's Mom was looking down on them with a big smile. (A rainbow came out when Nate proposed too!)
Nate and Mary Kaitlyn treated their guests to a nice cocktail hour outside on the patio, and then a buffet dinner catered by Bill's Grill (YUMMY mac-n-chz) cake and 3 flavors of cupcakes by Josey Harrell, and dancing DJ'd by Kentry Bynum.
A few of our favorite parts of the reception:
• When their grandmas were killing it on the dance floor (so cute!)
• When a non-dancing guest (Brad Womble) was dragged IN HIS CHAIR to the dance floor and "forced" to dance in his chair (HAHA)
• Seeing the dancing skills of Michael Gardner
The exit was an AWESOME way to end the evening!!! All the guests held white balloons to make a tunnel, and everyone let them go at the end! SO FUN and unique!!
It was a wonderful day, and we are SO happy for Nate and Mary Kaitlyn! We hope you'll enjoy seeing our favorite photos of the day below!!!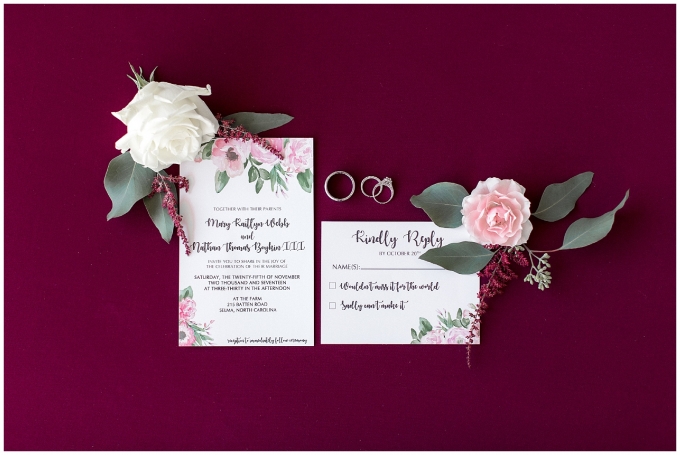 Thanks to all the awesome vendors:
– Florist: Ratledge Florist, ratledgefloristweddings@yahoo.com
– Makeup Artist: Caroline Sharp, Merle Norman
– Hairstylist: Shannon Crawford, Total Concepts.
– DJ: Kenntry Bynum
– Wedding Venue: The Farm
– Reception Venue: The Farm
– Caterer: Will Jenkins/ Bills Grill
– Cake Designer: Joesy Harrell
– Invitations / RSVP / Program Designer: Lauren Edmondson, Front Porch Paperie & Design
– Shoe Designer: Jack Rogers
– Ring Designer: Kay Jewelers
– Dress Boutique you purchased it from: NY Bride and Groom
– Groom & Groomsmen attire: Mens Warehouse