Garden of the Gods  |  Colorado  |  Wedding Day   |   Kristen & Mark  |  May 12, 2017
Ya'll……DREAM COME TRUE – we were flown out to Colorado to photograph Kristen and Mark's destination wedding!!!! These two are some of our FAVORITE people to photograph (we've photographed two sessions for them already) and when Kristen asked if we'd seriously fly out to capture their wedding day, there was ZERO HESITATION!
We'd been planning the wedding day for months, coordinating travel, and googling/researching our hearts out so things would go smoothly. I'm so impressed with everything Kristen got done from STATES away to pull off such a beautiful day.
From the MOMENT we arrived, Kristen and Mark were spoiling us. We walked into our hotel room, and there was a Welcome Basket FULL of all our favorite things!!!! Kettle Corn, Diet Dr. Pepper, double-stuffed Oreos, a postcard, and two custom cookies by the talented Southern Sugar. I almost CRIED because I felt so loved!!!!!
Phillip and I arrived a day early to go scout the exact location for the ceremony. We wandered for HOURS in the Garden of the Gods – it's the most AMAZING and MAGICAL place. To think that in 1908 it was privately owned?!?! Can you imagine inviting your friends over to your "backyard cookout" there?! Kinda jealous.
Finally, the wedding day arrived. We photographed their "Welcome Lunch" at the amazing restaurant Till Kitchen – Kristen had put SO MUCH thought into EVERY single detail. She designed her own beautiful Menus, and even brought all the children coloring/activity packages that she also hand-made.
We had a super cool downtown getting-ready venue, The Mining Exchange, and it was the ultimate spot to shoot details. I was like a kid in a candy store with all Kristen's sparkly detail items – (her shoes are EVERYTHING a little girl dreams of wearing!) and Phillip enjoyed having tons of "masculine" space to photograph Mark getting ready.
No surprise here, Kristen did her OWN makeup (she's so good) and the talented Randi Chavarria did both Kristen's and her mom, (Michelle's) updos. All the "older" girls (Marlee, Harper, and Eden) had the cutest little getting-ready pink satin robes, and they were SO EXCITED to get their flower girl dresses on! Marlee was such a good helper with her sisters Harper and Finley, and even had a sweet moment helping Kristen put on her bracelet and shoes!
We arrived at the Garden of the Gods, at our perfect (less-trafficked) spot. It was SO WINDY AND COLD as the sun went down (Kristen couldn't even wear her veil) but she was such a trooper. As she walked down the aisle, Mark was literally BEAMING from ear to ear. He was SO HAPPY!!!! Kristen's brother, Tyler, officiated the ceremony, and it was extremely special to have him marry them.
After the ceremony, we were LITERALLY racing the sun to get in as many portraits as possible! Kristen took off her heels a few minutes in, and walked the rest of the portrait time BAREFOOT. She is AMAZING!!!!! We had beautiful views, and even a random guitarist walking around to serenade us!  (be sure to see the guitarist photos below!!! hilarious!!)
We are SO APPRECIATIVE of Kristen & Mark trusting our vision and literally RUSHING through portrait time to beat the setting sun. At the very end, Kristen & Mark CLIMBED A BOULDER to get the most EPIC PHOTOGRAPH ever!!!!! We think it was worth it!
I couldn't have done all of this without Phillip running ahead and scouting each location's light to save time/steps, and leading us to the boulder's exact paths. He did SO MUCH other than photographing that day – he even lead the bridal party from the hotel to the correct parking lot!!! Phillip – THANK YOU for all you did!!!!! It wouldn't have happened without you!
We couldn't have been more honored to capture Kristen, Mark (and Marlee, Harper, and Finley's!) special day as they "officially" became a family. We LOVE these five people!!!!
P.S. They gave us ANOTHER surprise on their wedding day: a gift card to eat at their fancy reception venue, Till Kitchen and the food was AMAZING! (Crunchy Spider Roll for the WIN!)
Kristen & Mark, thanks so much for trusting us with your beautiful day! Ya'll are the best!!!! We hope you all enjoy a [bunch] of our favorite photos!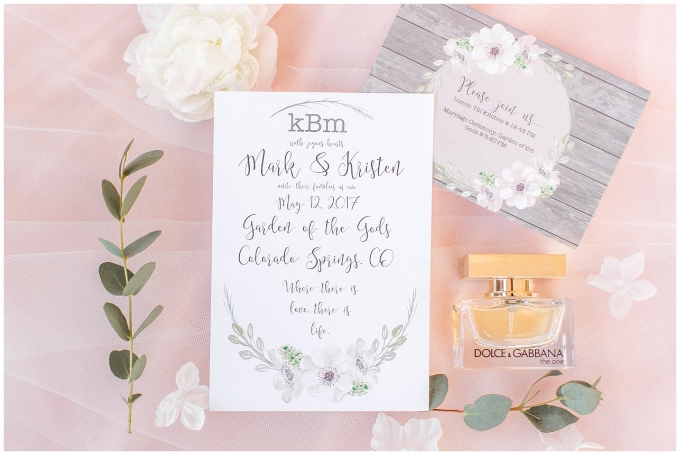 A big thanks to all the vendors:
Florist: Twigs & Posies
Hairstylist: Randi Chavarria
Wedding Venue: Garden of the Gods
Reception Venue: Till Kitchen
Cake Designer: Sugar Plum Shoppe
Ring Designers: C. Gonshor, Henri Daussi, Stefano Dimalta
Flower girls Dresses Designer: Renz Rags